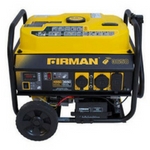 Model Number: PO3608 REV 01
Power your tools, lights or camping equipment easily with this Firman 4,550W Peak/3,650W Rated Gas-Powered Portable Generator with Remote Start. With the press of a button or pull of the recoil, you can fire up the generator to provide 3,650W of running power and 14 hours of operation on a full tank of gas. The Firman Max-Pro Series OHV engine is cast iron-sleeved and boasts automatic low-oil shutdown for added durability.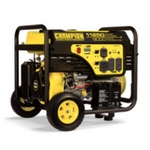 Manufacturer: Champion Power Equipment
Our rugged and reliable 9000-watt generator with included engine oil features Intelligauge to monitor output and Volt Guard™ to prevent overloads. The 459cc Champion engine with electric start and included battery have all the power you need for home backup during an outage or your next project.
We are constantly adding new specials to our site. Be sure to check back often!